Disclosure: Warner Bros. Pictures sponsored all travel, accommodations, and activities for this event.
In celebration of the release of The LEGO NINJAGO Movie, which is in theaters September 22th (today!), my husband and youngest son had the amazing opportunity of attending the press event in LEGOLAND, California.
ABOUT THE LEGO NINJAGO MOVIE
Find the Ninja Within Ya. The LEGO NINJAGO Movie arrives in theaters September 22!
A new animated adventure in Warner Bros. Pictures' LEGO® franchise, "The LEGO NINJAGO Movie" stars Dave Franco, Justin Theroux, Fred Armisen, Abbi Jacobson, Olivia Munn, Kumail Nanjiani, Michael Peña, Zach Woods, and the legendary Jackie Chan.
In this big-screen NINJAGO adventure, the battle for NINJAGO City calls to action young Master Builder Lloyd, aka the Green Ninja, along with his friends, who are all secret ninja warriors. Led by Master Wu, as wise-cracking as he is wise, they must defeat evil warlord Garmadon, The Worst Guy Ever, who also happens to be Lloyd's dad. Pitting mech against mech and father against son, the epic showdown will test this fierce but undisciplined team of modern-day ninjas who must learn to check their egos and pull together to unleash their inner power of Spinjitzu.
Rated PG – Grab movie tickets here!
NINJA EVENT ACTIVITIES
To say that Ryan (hubs) and Charlie (my kid) had an awesome time celebrating The LEGO NINJAGO Movie is quite the understatement of the year. In fact, they are STILL sharing stories and reliving moments from their experience with me. Here a few of those highlights.
Master Builder presentation.
Learning how to build with LEGO with a Master Builder?
Heaven for this kid.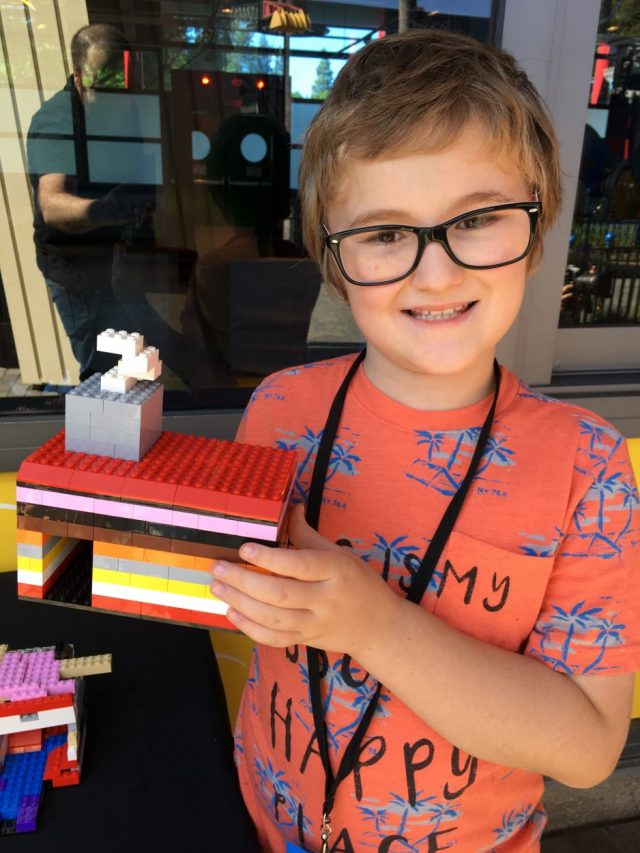 The NINJAGO ride.
Ryan and Charlie had the pleasure of riding the new NINJAGO ride! I would be fibbing if I didn't say that I was really jelly of this.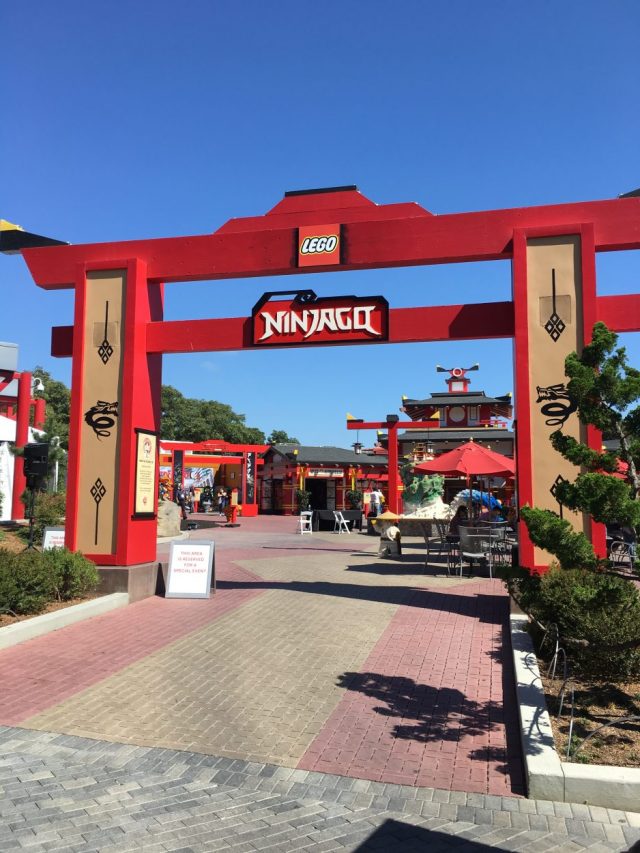 Charlie's review of the ride? "The best ride I've ever been on!"
The LEGO NINJAGO Movie screening.
The ultimate purpose of this unique trip was to see The LEGO NINJAGO Movie, after all! And that they did with a special screening.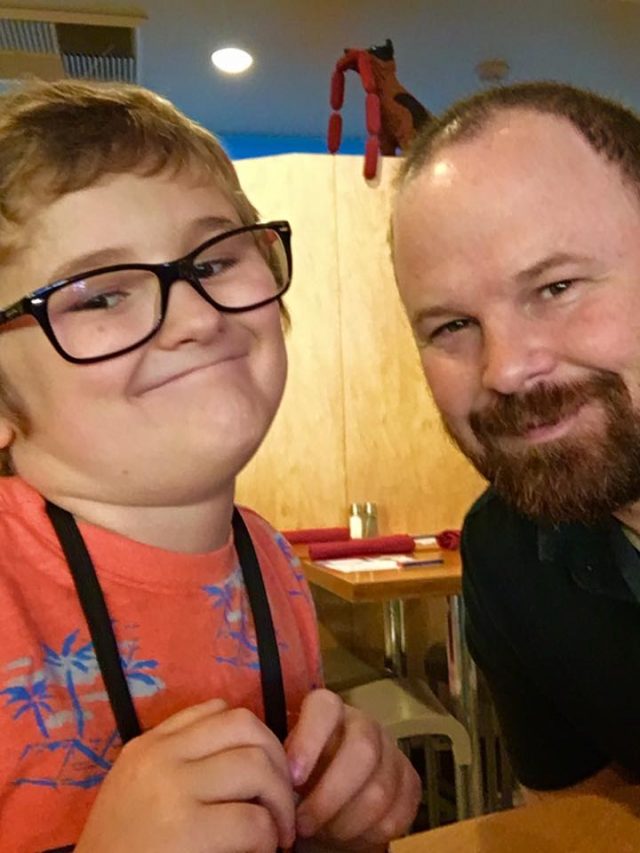 MOVIE REVIEW
My boys put together a few words about their thoughts post-movie…
"My son, Charlie, and I really had a great time with the LEGO NINJAGO movie.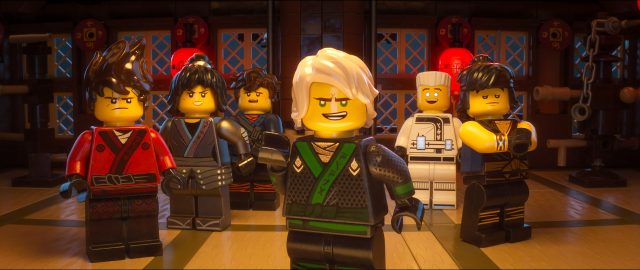 It's a great father/son story, and those always seem to get me right in the feels. I loved all of the nods to classic martial arts movies. When I saw the opening logos in the style of an old Kung Fu movie, I knew we were in for a good time. Then, Meowthra came on screen and I was in monster movie heaven.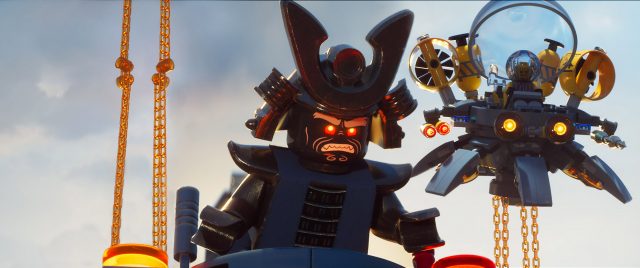 Charlie is really picky when it comes to movies and he was glowing after watching this one. He's been talking about it ever since. The cast was great and the comedy was perfect for the young and old alike. Kudos to Lego and the filmmakers for making a really fun and beautiful movie. We can't wait to see it again!" 
PRESS CONFERENCE 
As a filmmaker himself, the press conference segment of the event was definitely Ryan's favorite. With the whole cast and direction on board, including Jackie Chan, Dave Franco, Justin Theroux, Fred Armisen, Abbi Jacobson, Olivia Munn, Kumail Nanjiani, Michael Pena, and Zach Woods!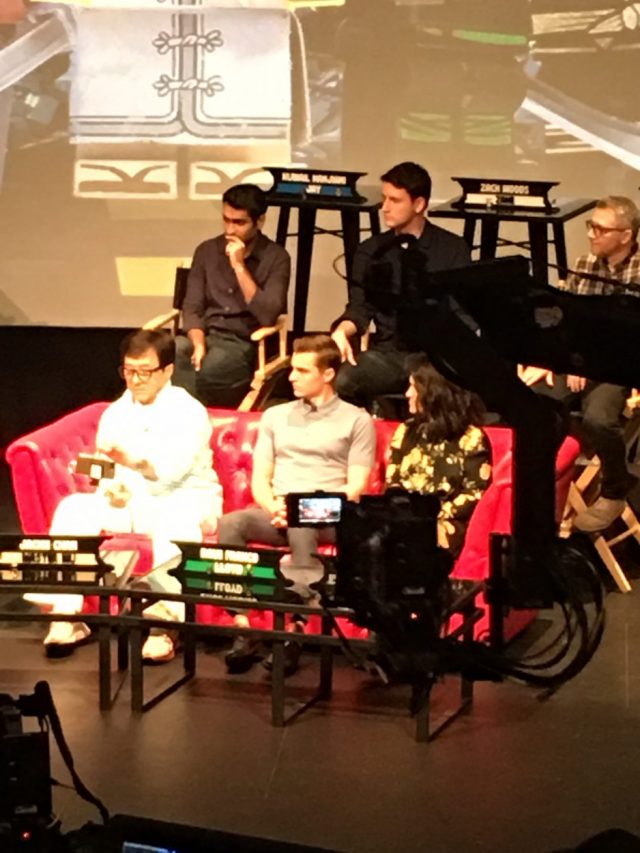 And, of course, a group photo was had at the end of it.
FUN FREEBIES!
THE LEGO NINJAGO MOVIE Coloring Book
Ninjas! Your creativity training begins…NOW! Visit ColoringBook.LEGONINJAGOMovie.com to download The LEGO NINJAGO Movie Super Awesome Digital Activity Book.
Kai-Chi Game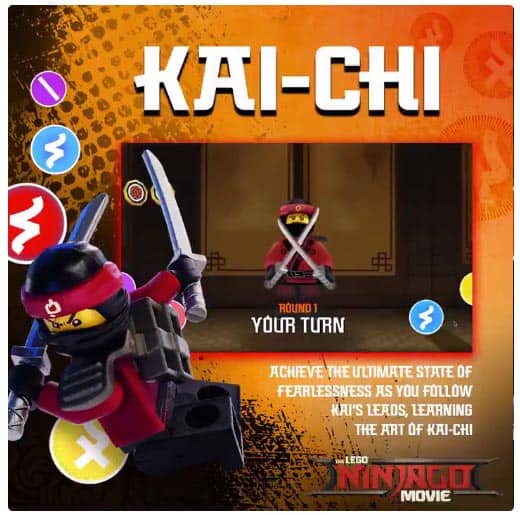 It's the hottest game around. Play Kai-chi today! http://bit.ly/KaiNinja
Flight of the Ninja
The flyest game you'll ever play. Flight of the Ninja, now live! http://bit.ly/JayNinja
Spinjitzu Slash 
Spinjitzu Slash is now live! Play the cutting-edge game today! http://bit.ly/LloydNinja
LIKE THE LEGO NINJAGO MOVIE 
Like 'The LEGO NINJAGO Movie' on Facebook, follow on Twitter, Instagram, and visit the Official Website!
A HUGE thank you to Warner Bros. Pictures for hosting my boys at this once-in-a-lifetime event!